What is an Aerospace Welder, And How Do You Become One?
Last Updated on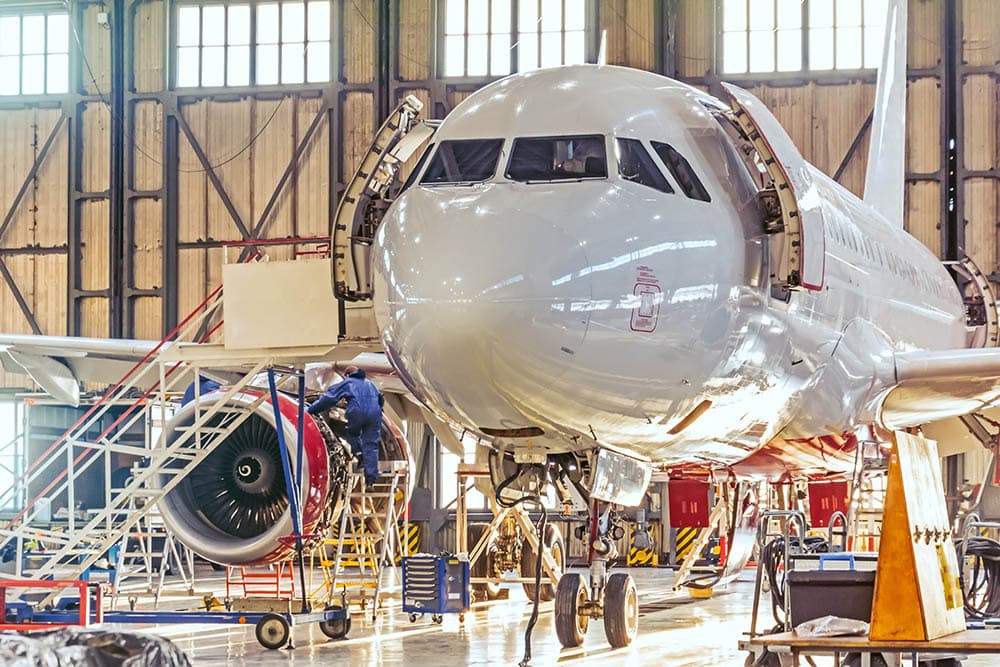 You may have heard the term aerospace welder in airplane manufacturing or space travel. Aerospace is a specific niche within the welding industry.
So, how does one become an aerospace welder? You may be asking this question because you are considering your next career move. Becoming an aerospace welder is no easy feat, but it is attainable.
You must know what you want to do. In this article, we will tell you who an aerospace welder is, and how to become one.
---
What is Aerospace Welding?
Aerospace welding is a process used in aircraft, and spacecraft construction. It is also known as structural welding. It is commonly used to manufacture large structures used in commercial aircraft and spacecraft.
Aerospace welding differs from other welding processes because the welds are scrutinized for cleanliness. Also, the welds are heated to high temperatures and cooled fast. These high-temperature welds are somewhat brittle, and so they need extra precautions.
Aerospace welding is used to join metallic components and structures. It also provides structural support. Various welding processes are used in aerospace welding including:
Resistance
Gas Metal-Arc
Electron Beam
And Gas Tungsten Arc Welding
Aerospace welding is not a new process but it has recently become more widespread. The benefits of the aerospace welding process over traditional methods include:
Faster production
Reduced design time
Reduced cost
Improved cleanliness
Elimination of welding seams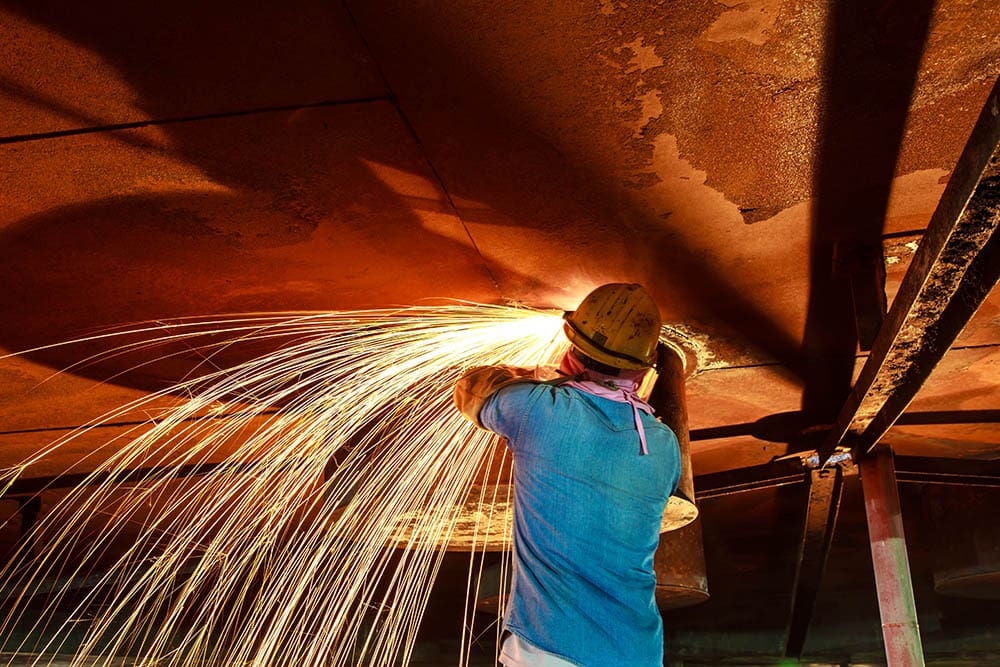 Who is an Aerospace Welder?
An aerospace welder welds in aerospace, particularly in aircraft and spacecraft. Most aerospace welders work in one of these three areas:
Prototype fabrication – this involves creating prototypes of new aircraft. They weld small parts together.
Repair – They also repair aircraft by welding small cracks and holes in aircraft bodies.
Overhaul – Overhaul welders weld on aircraft engines. They replace worn parts.
Most aerospace welders work indoors, at an airport, or in an aircraft factory. Usually, aerospace welders work in hot, noisy conditions.
Aerospace welders perform many unique welding jobs. These highly skilled welders use hot metal. They create high-tech products, such as airplanes, helicopters, rockets, satellites, and spacecraft.
The primary materials they use include:
Aluminum
Titanium
Steel alloys (including stainless steel)
Inconel (an alloy of nickel and chromium)
Chromoly (an alloy of chromium and molybdenum)
Carbon steel
Copper
High-alloy tool steel
Superalloys (such as Hastelloy)
Carbonized steel
Aluminum nickel arc rod (ANAR) and many more
---
How to Become an Aerospace Welder
Are you a student or already working somewhere else? Are you curious about the world of aerospace? If yes, you will be surprised to know that one of the most adventurous jobs in this field is aerospace welding. Here, we will tell you how to become an aerospace welder.
Get a High School Diploma or GED
Aspiring aerospace welders must have this diploma. It is the minimum requirement. But most employers will prefer an applicant to have an associate's degree in welding technology or a related field. Welding programs at vocational schools usually need applicants to have a GED or diploma.
Pursue a Four-Year Degree in Welding and Fabricating or Mechanical Engineering
Aerospace welders must earn a four-year degree in welding and fabrication. Welding and fabrication programs teach students how to use various materials, how to apply heat to these materials, and how to construct and repair metal parts.
Take the Exam Required to Get Certified
To work in aerospace manufacturing, you need certification. The certification process is not challenging. All you need is to demonstrate competency by passing a written test and showing your skills.
You must pass an exam administered by the American Welding Society (AWS). The exam is made up of two components. The first is a written exam. The second is a hands-on welding test, which you will complete at the AWS's testing center.
The exam covers a wide range of welding topics. Most welding schools in the United States offer classes that prepare you to take the exam.
Get Hands-On Experience through Internships, Apprenticing, or Working in a Related Field
To get hands-on experience, try an internship. It is a great way to learn about the field and get a taste of what it is like to work in the aerospace field. In most cases, internships are unpaid. But some companies will compensate you by letting you use the welding equipment.
Look for an internship in a welding shop or at a welding training school. If you do not have access to this type of shop, you will have to try something else like getting a job as an apprentice.
An apprenticeship is a formal relationship in which one person agrees to train another person. You will be working for someone else. But you'll be doing most of the work. The benefit is that you will get free training although you will not be paid.
Another way to get experience would be to work in a related field. If you want to be a mechanic, you can get a job repairing cars or trucks. Also, if you aspire to become an aerospace welder, you could get a job as an aircraft mechanic.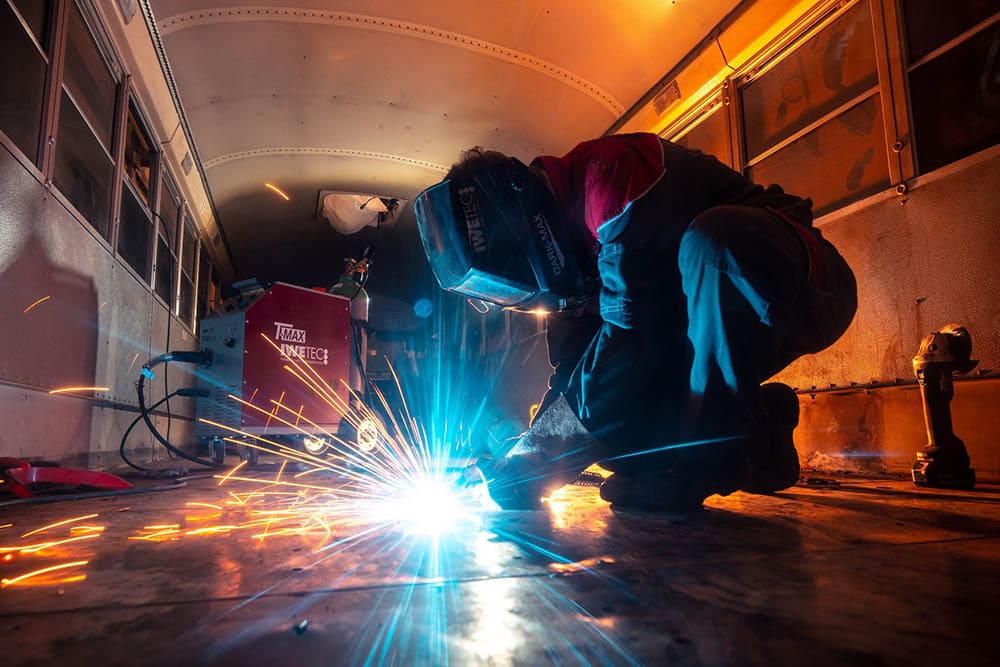 Get Licensed
One of the first things you need to do if you want to become an aerospace welder is to get a license. The license is issued by the local licensing agency in your county. For those currently employed in the industry, start by talking to your employer about obtaining a license.
If you want to work in a different capacity, contact an Aerospace Joint Apprenticeship and Training Committee (AJAC). A representative will determine the licensing requirements for the career path you follow.
Network with Others in the Welding Industry
Networking is one of the most important ways you can advance your career. These days, welding jobs are highly competitive. So, securing a good job is essential, even if it's an entry-level position. Networking will help you comfortably enter the aerospace welding industry.
The first step to networking is establishing contacts with people in the aerospace welding industry. When looking for a job in welding, you should consider joining a union, such as the American Welding Society, which will allow you to meet fellow members and build a network of contacts.
Additionally, you should join professional organizations. These professional organizations usually hold conferences and meetings. They also provide welding resources and publications. Having these contacts will increase your chances of landing a job as an aerospace welder.
Apply for an Aerospace Welding Job
Once you have decided to become an aerospace welder, you need to apply for the job. There are a few things you should do before applying. They include:
The application process usually takes a month or more. During this time, you must provide a resume. Your resume should include information, such as past work experience and education. It should also have your skills and references.
This interview can last 30 minutes or an hour. In the interview, you will respond to questions about yourself.
Perform a Background Check
The background check is done online. Usually, it takes two days to complete. Ensure you disclose your criminal history.
A drug test proves that you do not have illegal drugs or alcohol in your system.
In the welding test, you will be asked to weld a sample. Usually, the test takes about 45 minutes. The test is graded on a pass or fail basis.
Typical Skills of an Aerospace Welder
Throughout an aerospace welder's career, one learns many skills. In every job, you have to think fast and solve problems as they come up.
As an aerospace welder, you need the following skills.
Must be able to read and understand welding symbols and drawings
Must accurately follow instructions and proceed at a fast pace
Demonstrate and use proper safety and work habits
Use blueprints to determine weld requirements
Know how to weld aluminum, steel, and titanium
Be able to weld, braze, and cut structural shapes and aluminum according to its specifications
Be Proficient in oxyacetylene gas welding
Be familiar with American Welding Society specifications and requirements
Be self-motivated and adept at learning new skills and processes on the job
Be able to use various torches and flame-cutting equipment
Know about heat-treating and arc welding
Possess knowledge of industrial safety practices
---
Final Thoughts
Do you want to become an aerospace welder? If yes, aerospace welding is a skilled trade that needs a combination of aptitude and technical expertise. Aerospace welders join or fuse different types of metals for a wide variety of applications.
Aerospace welders are a crucial component in the production of aerospace products. That is why they are highly sought-after by employers. They have passed extensive training to become part of this industry. If you want to become an aerospace welder, you must be willing to put in the work to get the training you need.