10 Best Budget Welding Helmets under $100 – Top Picks & Reviews 2023
Last Updated on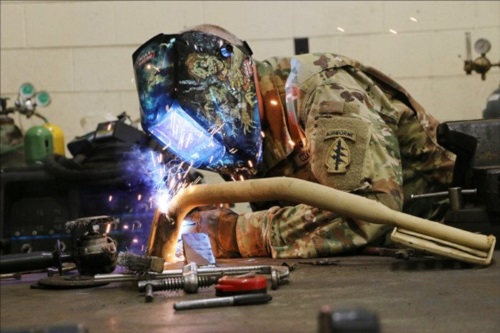 Picking out your perfect welding helmet is a lot of hard work. You want to make sure you're not blowing your budget, but you also want a quality product that will protect you while you're using it. With so many mixed reviews out there, we thought we'd compile them and do all the hard work for you. We've put together a list that features the best budget welding helmets, along with in-depth reviews that will help you narrow down your options and find the right one for you. We understand that finding the positives in a product is almost as useful as finding the negatives, so we've made sure not to miss anything on this list.
After looking through countless reviews, we've put together five of the best budget welding helmets you can buy for under $100. Each has its pros and cons, which we have also listed under each product item so you can see a more balanced review overall.
A Quick Look at Our Favorite Budget Welding Helmets of 2023
Image
Product
Details

Best Overall

Miller 251292

Clear and Wide Lens
Cheaper Than Other Models
Fully Adjustable
CHECK PRICE

Instapark ADF GX990T

Very comfortable
Durable
Good for beginners
CHECK PRICE

Best Value

Antra AH6

Best Budget Helmet for the Money
Lightweight
CHECK PRICE

Tanox ADF-206S

Fast-reacting auto-darkening feature
Easily adjusted; good functionality
CHECK PRICE

AUDEW Budget Helmet

Skull design on the side
Auto-darkening
CHECK PRICE
The 10 Best Cheap Welding Helmets
1. Miller 251292 Welding Helmet – Best Overall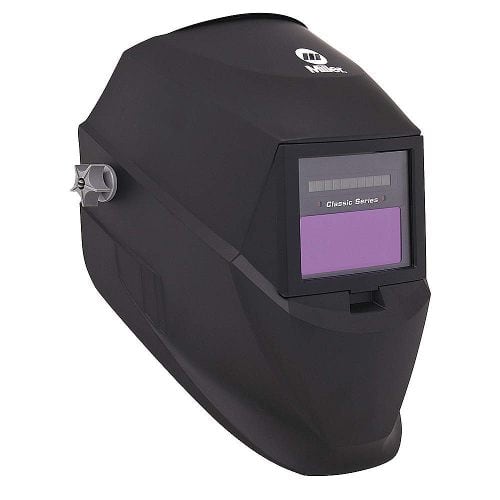 Our choice for the best budget welding helmet out there is the Miller 251292. It's lightweight and very comfortable to wear for a long time. If you're planning on doing welding work for a long time (or going to welding school/classes), this is a good fit for you. The lens of the helmet is clear, and if you want another one in the future, you can get one easily as they're readily available.
This helmet is sturdy, with an adjustable shade and fit. It only takes two AA batteries to get it up and running properly. For beginners or those who don't want to spend a lot of money on a helmet, this is a great choice. The only downside is that its viewing window is somewhat small. However, all in all, its still one of the best cheap welding helmets on the market.
Pros
Clear and Wide Lens
Cheaper Than Other Models
Fully Adjustable (including the shade and fit)
---
2. Instapark ADF GX990T Welding Helmet
This solar-powered, auto-darkening welding helmet may not be in our number one spot, but it sure deserves a silver medal. Instapark is well-known around the US and much of the world, especially in the welding community. The GX990T is fully adjustable. It's been called the most adjustable helmet on the market, so if you want something you can change and customize, this might be for you. Note that it's not safe to adjust it while wearing it. The viewing area is around 3.94" x 3.86", which makes it one of the biggest you can buy in terms of budget welding helmets.
Since it uses solar power, it comes with a charger. The manufacturer says the battery life is normally around 3500 to 5000 hours, allowing lengthy welding time. The light to dark feature is especially helpful for those who go indoors and then outdoors while welding. However, some reviews have criticized this feature, saying that the old flipping method is more reliable. Some users also say the controls are oversensitive.
Pros
Very comfortable
Durable
Good for beginners
Cons
Sensitive Controls
Not Safe to Adjust on Your Head
---
3. Antra AH6 Budget Welding Helmet – Best Value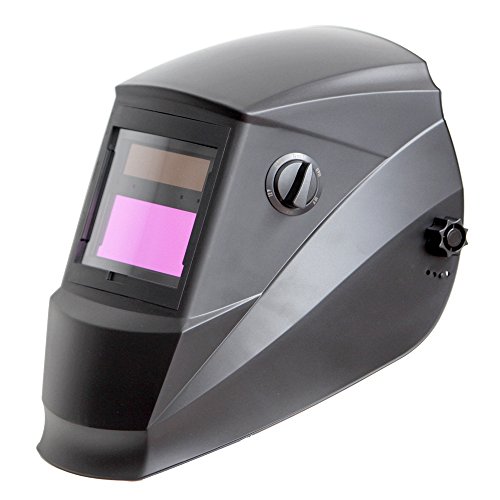 Like the second helmet on this list, the Antra AH6-260-0000 is solar-powered and has an auto-darkening feature. While it's easy to see through the lens, it lacks the bigger view lens of the first two helmets, and the response time to light or dark areas is delayed. The dial is also easy to knock.
However, there are still a lot of benefits to this lightweight mask. It's good for those who are just getting a welding helmet for a hobby. Not only is it one of the least expensive helmets on the market, it's very good quality and durable. While it doesn't have any extra features, you can buy other lenses to compensate for this.
Pros
Best Budget Helmet for the Money
Lightweight
Cons
Easy to Knock Dial
Slow Response Time of the Auto-Darkening Feature
---
4. Tanox ADF-206S Welder's Helmet
While the Tanox ADF-206S helmet is great, it has issues, too. It's generally comfortable and has minimal features. This is good for those who like to live simply or just love welding as a hobby. The headband is particularly comfortable. The viewing area is a good size. However, it is smaller than that of the previous three models.
Replacing the batteries can be difficult. The instructions that come with the helmet are also limited.
People who work in the construction or welding industries will know how important having a grinding mode is, yet this helmet doesn't have one. That can pose a problem if you're wanting to keep it for a while. However, it's a very strong and durable helmet with a fast auto-darkening feature that works for welding indoors or outside. It also has easy-to-use functionality.
Pros
Fast-reacting auto-darkening feature
Easily adjusted; good functionality
Cons
Replacing batteries is difficult
No grinding mode
Limited instructions
---
5. AUDEW Budget Welding-Helmet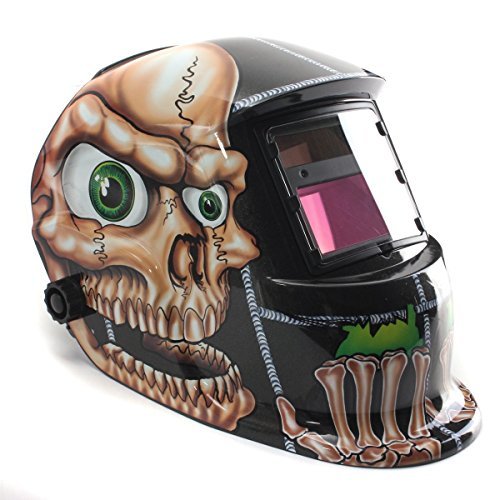 If you invest your money in a good quality budget welding helmet with good reviews, your welding experience should be a great one. However, buying the AUDEW 635426218557 may make you regret not spending more on your welding helmet.
Despite it's claiming to have an auto-darkening feature, multiple reviewers say this helmet has left blue spots in their vision. Others have said that you must lift up your head every five minutes or so to avoid damaging your eyesight. This isn't practical if you'll be welding for a while. A spotty darkening feature is not safe and could potentially leave you with permanent damage to your eyes. Possibly the only good thing about this helmet is that it has a cool skull design on the side, but that doesn't outweigh how bad it is in general.
Cons
Dangerous: spotty auto-darkening
Not suitable for prolonged wear
Overpriced for quality of product
---
6. TACKLIFE Solar Power Auto Darkening Welding Helmet
The TACKLIFE PAH03D Welding Helmet stands out as a premium helmet offered at an affordable price. It doesn't come with the same high-quality components as a premium helmet— specifically, its low-quality headgear—but it performs the same and has excellent features.
The helmet has a lens with the highest optical clarity available. It doesn't have fancy color adapting technology to make the sight the absolute clearest, but with the standard green shading, it has a clear 1/1/1/1 optical lens. The viewing areas are also large, too, which helps you see a wider view of your work. There are helmets amongst these reviews with larger lenses, but this is better than many of the low-priced options.
The PAH03D shading is impressive, too. You have options to switch between any shade from #3 to #13, which gives you optimum sight with the right protection for cutting, grinding, and any amperage welding, including low amperage TIG welding. There is also a test button which you can press to see whether the shade is working properly before you are looking out through the lens.
However, the headgear is low-quality and uncomfortable. There are worse headgears available, but most people who purchase the helmet agree that it sits below the standard they like. If there are any issues with the helmet, Tacklife stands by their products and will help you out, but they can take weeks to get back to you. We recommend this helmet for its lens; it's a low to medium quality auto-darkening helmet for any kind of work. But do note that it's not the most comfortable available.
Pros
Extensive shade range
Wide viewing area
Clearest optical clarity available
Test button for auto shade
Cons
Uncomfortable headgear
Low to medium quality parts
Slow customer service response
---
7. YESWELDER LYG-M800H Welding Helmet
The YESWELDER LYG-M800H Large Viewing Screen Welding Helmet is an impressive hood that hundreds, if not thousands of welders use. It isn't the highest quality helmet, but it's worth considering for the excellent features at this price point.
The viewing area is 3.94 by 3.66 inches. It's not the tallest lens available in the under $100 range, but overall, it's a large size that gives you excellent sight. The lens also eliminates the green shade which most lenses have. It has a 1/1/1/2 optical clarity, which is one mark less than the top clarity available. With the high optical clarity, and the green shading removed and a large screen to see out from, the optics in this helmet stand above many high-quality, expensive helmets.
What's not so good about the LYG-M800H Helmet is the headgear lacks comfort and quality. It's been made from cheap materials and has broken prematurely for some customers. There are other components that are made from low-grade plastic, along with fastener systems that break sooner than the higher quality helmet.
On a positive note, YESWELDER has excellent customer service and will make sure you are taken care of if there is an issue. If you need an industrial-grade helmet, then this isn't one we recommend. However, it satisfies both hobbyists and professional welders alike for a lower-grade affordable option.
Pros
Clear and large viewing area
Lightweight
Cutting and grinding shading options
Good customer service
Cons
Low-quality headgear
Low-quality plastic components
Not intended for industrial use
---
8. DEKOPRO Solar Powered Welding Helmet
The DEKOPRO Solar Powered Welding Helmet is an appealing welding helmet for light use. The construction has been made well that it can handle being dropped without breaking. Most high-end expensive helmets don't have this function. It also has a large viewing area, which enables you to see much more than other low-priced helmets. The lens has 1/1/1/2 optical clarity, which is almost the best, but it only includes five shade settings.
It's a flexible helmet which makes fitting into tight spaces much easier and more comfortable. However, the plastic is not durable. The helmet doesn't crack easily, but it lacks the full protection from large pieces of spatter or flames that is desirable for extensive welding.
The hood is lightweight to ensure your back and neck don't suffer from long welding session. It isn't designed for daily industrial welding, so most people only purchase it for hobbyist work, but it still is nice to have a light hood to wear for small jobs at home.
There is a weak connection piece between the headgear and the helmet. When assembling or disassembling the helmet, the connector is known to snap, making the helmet useless. This issue is easily resolved by being more careful with the helmet, but it's good to know in advance.
This is a good purchase for light-duty work, but we don't recommend it if you need to do extensive welding.
Pros
Lightweight
Large viewing area
Good customer service
Solar-powered
Cons
Thin plastic not durable
Low-quality
No strong connection between headgear and helmet
---
9. FOOWOO Solar Powered Auto Darkening Welding-Helmet
The FOOWOO Solar Powered Welding Helmet Auto Darkening Hood is an affordable helmet that resembles the DEKOPRO Solar Powered Welding Helmet. They are both lightweight, flexible helmets that are good for hobbyists on a low budget. The flexible feel is good for protecting your head from hard knocks and for squeezing into tight spaces, but it lacks the durability for industrial welding.
The graphics are appealing to many customers. It's a high-quality printing that can withstand scratches and heat so that it stays looking good. However, the viewing area isn't very large for this helmet. It has a good lens with 1/1/1/2 optical clarity so you can see clearer than many low-priced helmets, but you can't see through a large screen.
The FOOWOO Solar Powered Auto Darkening Hood arrives unassembled, and it isn't easy to put together. The connection piece is better than the DEKOPRO Hemet, but it's still a struggle without the necessary instruction.
Once the helmet is assembled together, it doesn't need to come apart again and is comfortable to wear from then onwards. It's not the best low-price helmet available, but it's good nonetheless for hobbyists who don't need a large viewing area.
Pros
Lightweight
Flexible material
Nice graphics
Cons
Thin plastic not durable
Difficult to assemble
Small viewing area
---
10. Honeywell Fibre-Metal Pipeliner Fiberglass Welding Helmet
The Honeywell Fibre-Metal Pipeliner Welding Helmet is not everyone's favorite, but it's useful for artists and welders working on dangerous sites. The helmet has a solid fiber-metal structure that protects your face from flying objects. It's also easily adaptable to fit with certain hard hats for extra protection. Although, be aware that some hard hats don't fit with it unless you do extensive modifications.
It is a comfortable headgear despite being made from fiber-metal, and it's not very heavy either. It is heavier than plastic hoods, but for a heavy-duty helmet, it has a light feel. There is no auto-darkening lens with this helmet, but they are easy to put in if you want to upgrade it. However, the lens size is one of the smallest on the market.
There is no flexibility to the helmet, so if it doesn't fit into a tight gap, you won't be able to flex it to squeeze in. The Pipeliner is not for everyone, but if you need a heavy-duty option, it's a good purchase. It's also a common helmet people buy for painting their own designs.
Pros
Tough helmet
Comfortable feel
Perfect canvas for painting a unique design
Cons
No flexibility
Small lens
No auto-darkening lens
Not a good flipping hinge
---
Buyer's Guide
Tips for Buying a Good Quality Model
If you're wanting to make welding your profession or even if you're just looking for a helmet that suits you the best, you need to look at every aspect of what makes a good quality welding helmet. When it comes to budget, often having a smaller one can be seen as a bad thing, but it is far from it. If you know what you're looking for then you will have the perfect budget welding helmet before you know it.
Try out a helmet that has an auto-darkening lens – there are different types of lenses that you may want to try but the best you can get in with recent technology is definitely the auto-darkening. This is a feature that prevents harmful infrared and UV rays from getting to your eyes, which is especially helpful if you're doing prolonged welding work.
Good reviews of your welding helmet – this may seem like a given but it is so important to consider what other people are saying about the helmet you want to buy. Make sure that although it may have negative reviews, these don't outweigh the positive ones.
Ensure it fits snugly and isn't uncomfortable – the most important tip is to make sure you invest in a welding helmet that is comfortable since you will be doing a lot of work with welding you need to make sure it doesn't cause you any pain.
Things to Consider When Choosing
Budget welding helmets are some of the best products around and if you're wanting to get yourself a welding helmet but don't want to spend a lot of money on one then getting a budget one is perfect. However, you have to consider everything before you proceed and put your money into the product. Not only should you think about the lens you need in your helmet, but you should also consider how much you will be using the helmet and whether you should opt for a slightly more expensive one so that it lasts for longer rather than a very cheap one that doesn't last a week.
The viewing size – every model of welding helmet has a different sized viewing area (this is the area which you can look out of!), and it is necessary to think about the size that will best suit you. If you want a bigger viewing area, then you have to make sure to look out for one on the product description.
The adjustable controls and features – from the sensitivity to the delay controls, there are all sorts of adjustable controls you can have. When it comes to buying your welding helmet you have to make sure you consider what you want out of your helmet itself.
A passive or auto-darkening lens – most budget welding helmets will have an auto-darkening lens but you can find some that use a passive lens, it is all down to personal preference but you may want a certain lens and this is important to consider before you buy your welding helmet.
Conclusion
After considering the reviews for all the different products we can conclude that the Miller 251292 model is the best budget welding helmet you can buy. This is down to a lot of factors including its cheap price, good quality as well as multiple features which you don't get with other budget helmets, least forgetting that Miller is a big brand that has a good name in the welding business you know that you'll be getting a quality product whatever you buy.
Finally, we hope this guide has given you more of an insight into the best welding helmet for you and your specific needs, and how to buy a welding helmet when you're on a budget.
Related content: